Dermatologists classify acne as inflammatory or non-inflammatory depending on how inflamed the skin eruptions are. Most people have the non-inflammatory type, which is made up of whiteheads and blackheads. In both cases, the pore is simply blocked with oil where bacteria can thrive. When the pore is closed, it is called a whitehead; when it is open, it is a blackhead.

Inflammatory acne means that the clogged pores are infected with bacteria and have turned into papules (pimples that don't contain pus), pustules (pimples that contain pus), or cysts (inflammatory nodules). When the bacteria multiply and the immune system fights back, the affected skin tissue also reddens and swells.
Continue Learning about Acne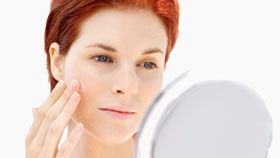 Acne is an inflammatory condition of the skin. Learn from our experts on the difference between whiteheads, blackheads and bumps and how to cope with the stress of acne.