Beta-hydroxy acid, or BHA, is different from other exfoliants in that it's oil-soluble. Since it can dissolve in oil, it can get inside oil-clogged pores (clogged pores are a cause of acne and blackheads) and remove dead skin cells to help unclog them.
Beta hydroxy acid (BHA) gets rid of acne by penetrating more deeply into pores to break the bonds keeping dead skin cells glued within. It's lipophilic, which means it can get through acne-producing oil build-up. One of the most familiar acne-fighters, salicylic acid is one type of beta hydroxy. It is both antibacterial and anti-inflammatory, hitting zits on multiple fronts, as well we preventing future breakouts if used regularly.
Continue Learning about Acne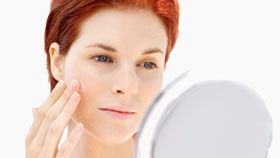 Acne is an inflammatory condition of the skin. Learn from our experts on the difference between whiteheads, blackheads and bumps and how to cope with the stress of acne.