One of the greatest myths about acne is that it occurs only in teenagers and that if you can get through those years, you are home free. The reality is that acne in adults is a very common occurrence and needs to be addressed.

For some, acne does not begin or become a significant issue until sometime after their teenage years. In teens and preteens, acne starts as mostly comedones (acne lesions) in the central area of the face -- the forehead, nose, and cheeks. Over the next few months to years, as the hormonal influences kick in, the acne takes on more variations and can be inflammatory as well. These hormonal influences sometimes don't take effect until later in teenage years or even later into our 20s or 30s and occasionally even later in life.

For those in whom the hormones have an early effect during adolescence, there is no guarantee that the hormones responsible will slow down or have less of an influence over time. Accompanied by all of the other factors that affect us over time, such as exams, work, family and friends, there can be lots of excuses for acne to persist for many, many -- always too many -- years.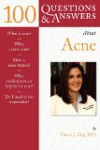 More About this Book
100 Questions & Answers About Acne
100 Questions and Answers About Acne provides you with all the information you need to manage your complexion problems. Written by Dr. Doris J. Day, a world-class expert in the field, this clearly...
Continue Learning about Acne Prevention