About one-third of women are reliably orgasmic from penetration, another third are sometimes orgasmic from penetration, and the remaining third are never or almost never orgasmic from penetration. This is a statistic that's been found over and over again in many different kinds of studies and I feel very confident about it. Yet women ask me all the time, "Why can't I have an orgasm during intercourse?" or, "How can I have an orgasm during intercourse?" Well, the reason you can't is very likely the same reason most women can't, which is that intercourse is not a very good way to stimulate the clitoris, and clitoral stimulation is the way to make an orgasm happen.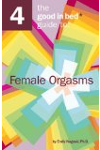 More About this Book
The Good in Bed Guide to Female Orgasms
Want to learn how to achieve 487 different kinds of orgasms?If so, you're reading the wrong guidebook. Despite what many in the media would have you believe, there's no such thing as a rainbow...
Continue Learning about Achieving Orgasm