Learn to enjoy the lovely sensation of sexual arousal. You're watching your arousal grow. You're relaxing into the knowledge that your body is capable of bringing you pleasure and gratification. You're celebrating this messy, noisy, awkward, cumbersome, beautiful gift you were given as a prize for being born -- your body -- and exploring its capabilities. It's like you've just got a new toy -- a car, a phone, whatever -- and you're testing out all the cool things it can do, and finding it can do way more extracool stuff than you ever expected.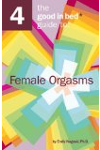 More About this Book
The Good in Bed Guide to Female Orgasms
Want to learn how to achieve 487 different kinds of orgasms?If so, you're reading the wrong guidebook. Despite what many in the media would have you believe, there's no such thing as a rainbow...
Continue Learning about Achieving Orgasm