Just because you haven't had an orgasm doesn't mean you can't have one. Your first orgasm will be easiest (A) when you are alone, (B) when you are using a vibrator, if available and (C) when you aren't trying to have an orgasm. (B) has to do with increasing excitation cues -- that is, giving your brain more reasons to tell your genitals, "Yes, NOW!" The mechanical vibration provided by toys is more intense than most other types can provide. More stimulation leads to more arousal, which leads to an easier/faster orgasm. (A) and (C) have to do with reducing potential inhibitors. Inhibition, in this context, doesn't mean shyness, as it often gets used. It means brakes, things that cause your brain to tell your genitals "not now!" (A) helps to minimize the intrusive thoughts that many women experience when their partner is in the room. All that thinking about what your partner might be thinking about both distracts you from the pleasure you're experiencing and gives your brain excuses to send "stop it!" signals to your genitals. Without your partner there, you can pay attention to the pleasure and not fret about the partner. Add the partner later, when you've got the hang of it.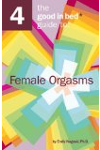 More About this Book
The Good in Bed Guide to Female Orgasms
Want to learn how to achieve 487 different kinds of orgasms?If so, you're reading the wrong guidebook. Despite what many in the media would have you believe, there's no such thing as a rainbow...
Continue Learning about Achieving Orgasm