For some of us, the possibility of learning more about our developing baby during pregnancy makes us anxious and unhappy, because we feel required to decide, rather than leave things to occur as they will, as our grandmothers and great-grandmothers did. Others feel just the opposite, welcoming testing because we want to go ahead with a pregnancy only if we can know about the health of the baby before it is born. There is no one "right" way to feel about tests or about continuing or ending a pregnancy after you learn particular test results. Don't let people pressure you into testing or not testing. Try to help the people supporting you understand what you want, whatever it is. The more you learn, the more you may decide that testing and then abortion if the results identify a particular impairment are best for you, even if you otherwise would never have wanted an abortion. But if you conclude that you want this pregnancy and child regardless of what you learn about a possible disability, that decision should also be yours to make. True reproductive choice means the choice to get the information and support you need in order to make the right decision for your life and the lives of the people you love.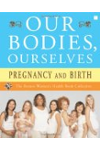 More About this Book
Our Bodies, Ourselves: Pregnancy and Birth
ALL THE INFORMATION YOU NEED TO MAKE WISE DECISIONS ABOUT YOUR PREGNANCY AND THE BIRTH OF YOUR CHILD -- FROM THE EDITORS OF THE CLASSIC "BIBLE OF WOMEN'S HEALTH" Pregnancy and birth are as ordinary...
Continue Learning about Abortion