Some of us choose to end a pregnancy after discovering that we are carrying a fetus with severe impairments. Loss from terminating a pregnancy is different from other childbearing losses because it arises out of our own decision, but it can be just as painful and difficult.
Religions, subcultures, communities, and individuals vary widely in their beliefs about the ethics of ending a pregnancy because of a diagnosed impairment. Those of us who experience this kind of loss may not speak openly about it for fear of being judged. Support from those around us, accurate and adequate information about the diagnosed disability and its potential impact, and support from other women with similar experiences can help many of us come to terms with our decision.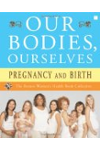 More About this Book
Our Bodies, Ourselves: Pregnancy and Birth
ALL THE INFORMATION YOU NEED TO MAKE WISE DECISIONS ABOUT YOUR PREGNANCY AND THE BIRTH OF YOUR CHILD -- FROM THE EDITORS OF THE CLASSIC "BIBLE OF WOMEN'S HEALTH" Pregnancy and birth are as ordinary...
Continue Learning about Abortion