A tummy tuck procedure involves making an incision just above the pubic hair line, removing the excess skin and fat, and tightening the abdominal muscle. The result is a firm, flat stomach. Before you consider a tummy tuck procedure, you should try to reach your target weight and maintain it for several months. You should also be finished having children, as pregnancy will stretch the skin and muscle. The scar from a tummy tuck is large, but it is usually just above the pubic hair line, so even in a swimsuit it should be hidden.

Be aware that the recovery period for a tummy tuck is at least 6-8 weeks. You will need to wear a compression garment for the first 6 weeks to help with swelling and support your tummy while it is healing. You will also have one or two drains that will need to stay in place for 10 to 14 days. During that time, you will need to empty the drain and record its contents several times a day.

If you are considering a tummy tuck, make an appointment with a board certified plastic surgeon to see if this procedure is right for you.
Tummy tuck procedures are excellent surgeries for patients who are finished having children. Women who no longer desire to become pregnant and have extra skin from the bellybutton down to the suprapubic area do great with abdominoplasty procedures. Tummy tuck candidates are women who have excess abdominal skin laxity and have rectus diastasis, or the muscles of the abdominal wall have been pulled apart from the pregnancies. Removal of skin from the bellybutton down to the suprapubic region leads to a long scar, like a C-section scar, but extending to the hips bilaterally.

Patients often will undergo liposuctioning of the hips in order to reduce the bulkiness of the sides or the pre-jean roll areas, often referred as the muffin top.Tummy tuck procedures should be performed by board certified plastic surgeons. These doctors have the experience and judgment to perform this operation in a safe and predictable manner. Tummy tucks are performed under general anesthesia with board certified anesthesiologists in an accredited surgical ambulatory facility. The largest trade off for tummy tucks is scarring which can be significant. Make sure your expectations are realistic, as to the final results of a scar is never 100% predictable.
The fastest growing cosmetic procedure among the most popular ones is the abdominoplasty, or tummy tuck. Baby boomers have had their kids, and tummy tucks reverse the damage those little tykes did while inside. While someone was camping out in your uterus, your abdominal muscles relaxed and thinned so your belly wouldn't crush your baby.

A tummy tuck tightens the rectus muscles in the abdomen and pulls in the obliques (muscles on the side of the abdomen) to improve their tone. You'll stand up straighter, and your lower back pain may be relieved. Liposuction of the flanks is usually done along with the tummy tuck, and the lower belly's extra skin and fat are tossed into medical waste. What's left behind is tightened so much that you won't stand up straight for two weeks. Sounds terrible, but when it's all done, your tummy will be flatter. But choose your doctor wisely; tummy tucks are the most dangerous of all plastic surgery, with the risk of bleeding, blood clots in the legs, and even death. Do it in a hospital, and don't fall for that "mommy makeover" marketing stuff; most careful plastic surgeons will not do other procedures aside from hip liposuction along with a tummy tuck.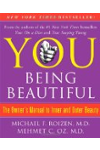 Continue Learning about Abdominoplasty Or Tummy Tuck