While most people feel the effects of leg-lowering exercises in the lower ab region, the primary muscles being used during these movements are the hip flexors. The main hip flexor, the psoas, passes right through the lower abdominal region as it runs from the lower back to the outside of the upper thigh; as it gets stressed and fatigued during this exercise, many people will feel it working and mistake this for the lower abs, which are in the same general area. A word of caution: leg-lowering exercises are potentially risky and can wreak havoc on the lower back if you lack proper core stability and flexibility in the hips. If you are unable to perform the movement without your lower back moving off of the floor, then you should work on improving the flexibility of your hip flexor muscles and stability of your core before incorporating leg-lowering into your program as this can place extreme stress on the vertebrae in the lower back. Instead, try a reverse crunch or knee-ups as these exercises tend to be a little more lower-back friendly.
Continue Learning about Ab/Core Exercises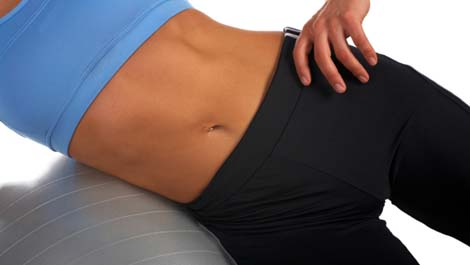 Sit-ups and crunches are a good exercise to help strengthen your core and to flatten your tummy. There are many variations of exercises that can target the obliques and lower abdomen to trim away belly fat and give you a long lean ...
n look.
More