Here's how to do hyperextension exercises:

Hyperextension: Begin by lying prone in a Roman chair with your thighs resting on the restraint pad and your heels hooked under the rollers. Keep your hands across your chest and arch your lower back. Slowly raise your torso upward until it is just short of perpendicular with the floor. Contract your glutes, and then reverse direction, returning to the start position.

Reverse hyperextension: Begin by lying facedown on a flat bench with your lower body hanging off the end of the bench and your feet just touching the floor. Grasp the sides of the bench with both hands to support your body. Slowly raise your feet upward until they are parallel with the ground, contracting your glutes at the top of the move. Then reverse direction and return your legs to the start position.
Continue Learning about Ab/Core Exercises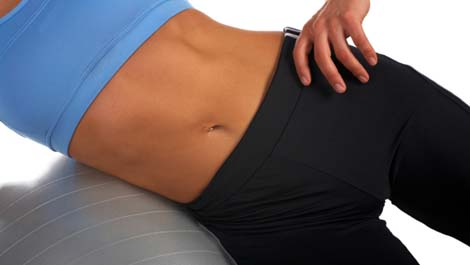 Sit-ups and crunches are a good exercise to help strengthen your core and to flatten your tummy. There are many variations of exercises that can target the obliques and lower abdomen to trim away belly fat and give you a long lean ...
n look.
More