What exercises can I do to tone my love handles?
Side bends and Ball rotations are 2 good "Love Handle" exercises.
Side Bends: Lie on the floor on your side. put your feet togther(the bottom outside of the foot should be against the ground), slightly bend your knees, bend your elbow 90 degrees and arm under your body. Draw in your belly button toward your spine and contract your glutes. Slowly raise your whole body off the ground until your whole trunk is elevated. Hold for 2-3 seconds and return to the ground. If it is too difficult, degress by bending your knees approximately 90 degrees and have the outside of the bottom knee against the ground. Do 2-3 sets of 12-15 reps.
Ball Rotations: Get a physioball that is 65-75 cm in size. Lie on the ball so your facing up. put your palms togther and keep your arms straight. Draw in your belly button toward your spine and contract your glutes. While on the ball, Roll your body towards the wall until you are facing it and your body is sideways on the ball (the outside of your shoulder and arm should be against the ball). Return to the starting postion and repeat 10-12 times. Then switch to the other side and do the same thing. Do 2-3 sets of 12-15 reps.
Toning is really just a product of a lower body fat percentage, and to reduce the size of the love handles you may have covering your obliques will require that you start burning more total calories than you are eating. No amount of ab or oblique training can single handedly accomplish this goal. It would be misleading to say "Do more side bends" or "Do more bicycle crunches", as these types of exercises do very little to reduce body fat. This is not to say that ab and oblique exercises are not important, but the real problem, most likely, is that you're simply not burning enough calories. A healthy well-balanced diet is the cornerstone to any weight loss or fitness program and should be your first consideration when trying to lose your love handles. Next you'll want to start burning off those excess calories with a solid cardio program. Resistance training is another great way to speed your metabolism and give you a lean and toned appearance. Ab and oblique exercises have their place in the fitness battle, but it's definitely not at the front lines!
There are many exercises that can target your "love handles" such as medicine ball rotations, standing cable rotations, and crunches with rotation. The love handles are actually muscles on both sides of your abdomen called the external obliques. These muscles are predominately responsible for rotating your torso and side-bending motions of your trunk. They also help stabilize your pelvis and spine.
It should be noted if your external obliques are covered in a layer of fat; the abdominal exercises mentioned above will not magically reduce the size of your love handles. These exercises will help strengthen the muscle underneath the fat, but only through a proper diet and increases in overall physical activity will help to burn away unsightly fat around the abdomen.
GET LEANER!
The very best way to trim your midsection is to lose fat. Based on your body type certain people will carry more fat in the their midsection than others but reducing your body fat percentage is the greatest and easiest way to reduce the size of your love handles.
Everyone has abs, everyone has obliques, removing your fat just allows you to see them. Ab exercises and exercises for your abdominals does what every other exercise does and that is to increase the skeletal muscle of that area and the muscular density of that area.
10 times out of 10 the loss of body fat is the best thing you can do for your love handles. So my exercise of choice for love handles is called "push away from the table", move to the computer and log your food and activity.
To tone your love handles make sure you're performing a good combination of cardio and resistance training, so you're burning fat and building muscle. Exercises such as side planks and woodchoppers with a medicine ball work the obliques which are the muscles that lie "underneath" the love handles.
Leaning Tower. Come onto your knees and cross your arms over your chest. Straighten your left leg out to your side. While pulling your stomach in lean to your right side, the entire time keep your core tight. Come down on a count of 3 and up on a count of 3. Get as low as you can. Do 25x and switch sides. Second set hold it at your lowest point for 25 seconds.
There's not much to love about those grabbable lumps of fat around your waist, but you can get rid of them without fancy gym equipment. In this video, Montel Williams, Dr. Oz and audience members demonstrate an easy exercise for love handles using just your body weight.
Continue Learning about Ab/Core Exercises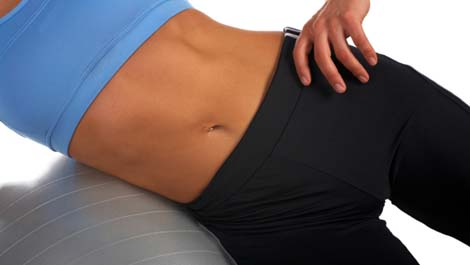 Sit-ups and crunches are a good exercise to help strengthen your core and to flatten your tummy. There are many variations of exercises that can target the obliques and lower abdomen to trim away belly fat and give you a long lean ...
n look.
More