To do a dying bug – or "dead bug" exercise, lie on your back with your knees and hip bent at 90 degrees. Your thighs should be perpendicular to the floor. Your arms should also be extended and bent 90 degrees at the elbows. To perform the exercise, first draw in your belly button to your spine. Then, fully extend one leg, and the opposite arm while keeping your stomach tight. Bring your arm and leg back to the starting position, and repeat with the other arm and leg. Perform the desired amount of repetitions.
Here's how to do the dying bug exercise:
1. While lying on your back, raise one arm over your head and bend the opposite knee to 90 degrees.

2. Brace your core muscles.

3. Without swaying your back, raise the straight leg up off the floor approximately 12 inches and hold.

4. Repeat ten times, then change legs.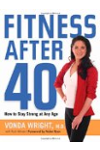 More About this Book
Fitness After 40: How to Stay Strong at Any Age
It's one of the undeniable facts of life. After we reach a certain age, our bodies change. No matter how fit we may have been at 20, we're very different people after 40. But growing older doesn't...
Continue Learning about Ab/Core Exercises