Most women's morning sickness goes away around week 13. This results in a renewed sense of energy for most women. Here's a list of other changes you might expect throughout the second trimester of your pregnancy:
Increased libido – increased levels of progesterone and estrogen in the body can make breasts, nipples and vagina more sensitive
Change/increase in appetite – with possible cravings for sugary foods
Weight gain – a pound every week or two from week 20 until the end of your pregnancy
Heartburn
Change in center of gravity
Leg issues – cramping, swelling, spider veins, varicose veins, restless leg
Vivid dreams
Darkening skin (chloasma) – particularly around the upper lip, forehead, cheeks, nipples, inner thighs and along the line that runs from your naval to your pubic bone
Lumpy breasts
"Quickening" – the baby's movement (starting around week 20)
Extra oil – may develop acne or other related skin problems
Braxton Hicks contractions – "practice" contractions that your uterus makes weeks before you are actually ready to deliver. (These "false" contractions are normal and are not dangerous.)
Stretch marks – on the abdomen, rear or thighs (may not go away after you give birth)
Water retention
Edema/slow blood circulation
Thicker/shinier hair – due to fluctuating hormone levels
Twenty weeks is the mid-point of the pregnancy:
The uterus is growing into the abdomen, the fetus is active, and the woman can feel the fetal movement.
The fetus is beginning to perform activities to refine and develop organ systems function in preparation for birth.
The growing fetus also brings some discomforts. Some women experience indigestion and heartburn as the enlarged uterus puts pressure of the digestive system.
There also may be leg cramps or swelling of the lower legs or feet, especially after standing for prolonged periods of time. Many women find that these discomforts are worse at night, making it difficult to find a comfortable position for sleep.
At 25 weeks the woman experiences a number of changes:
The increased blood flow results in tingling of the hand, varicose veins and snoring.
The relaxation of the pelvic ligament may result in symphysis pubis dysfunction and a change in gait.
The growing uterus puts pressure on the stomach and may lead to heartburn or indigestion.
On the positive side, the influence of hormones makes the hair seem thicker and the nails stronger.
Most women find the second trimester (week 13 through week 28) of pregnancy easier than the first. But it is just as important to stay informed about your pregnancy during these months.
You might notice that symptoms like nausea and fatigue are going away. But other new, more noticeable changes to your body are now happening. Your abdomen will expand as the baby continues to grow. And before this trimester is over, you will feel your baby beginning to move!
As your body changes to make room for your growing baby, you may have:
Body aches, such as back, abdomen, groin or thigh pain
Stretch marks on your abdomen, breasts, thighs or buttocks
Darkening of the skin around your nipples
A line on the skin running from belly button to pubic hairline
Patches of darker skin, usually over the cheeks, forehead, nose or upper lip. Patches often match on both sides of the face. This is sometimes called the mask of pregnancy.
Numb or tingling hands, called carpal tunnel syndrome
Itching on the abdomen, palms and soles of the feet. (Call your doctor if you have nausea, loss of appetite, vomiting, jaundice or fatigue combined with itching. These can be signs of a serious liver problem.)
Swelling of the ankles, fingers and face. (If you notice any sudden or extreme swelling or if you gain a lot of weight really quickly, call your doctor right away. This could be a sign of preeclampsia.)
This answer is based on source information from the National Women's Health Information Center.
During your second trimester of pregnancy, you can expect the following changes:
Nausea, breast tenderness and fatigue tend to diminish.
You may feel more energetic.
At the same time, you will likely gain weight, which may affect self-esteem.
Libido typically rises.
Lubrication increases again.
Blood flow to the pelvis increases further and or­gasms may be more intense.
As your belly grows, some sexual positions may become more uncomfortable.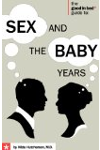 More About this Book
The Good in Bed Guide to Sex and the Baby Years
Available at a substantial discount for a limited time only, thanks to support from K-Y(R) Brand!Once you get down to the business of baby-making, the advice will pour in: books, magazines, in-laws, you name it - everyone will have something to say! But there's one thing that nobody will be talking about: your sex life--how it will change, and why you should cling to it, as passionately as you'll cling to that new bundle of life with the big eyes and winning smile.That's where this book comes in. Dr. Hilda Hutcherson, MD is a distinguished OB/GYN, an author of numerous best-selling books on the subject of sexual health, a candid advocate of healthy sex on shows such as Oprah, and, most importantly, a wife and mom of four - this lady knows what she's talking about!From the pressures of conceiving, to the fumblings of pregnancy sex, to the exhaustion of baby boot-camp and the ongoing trick of not letting your new identities as parents subsume your identity as a couple, having a baby isn't just an event, it's a milestone: a series of events that signifies a true transition into adulthood and marks a clear division between then and now. Available at a substantial discount for a limited time only, thanks to support from K-Y(R) Brand "Sex and the Baby Years" is about navigating that milestone - going in one way, and coming out changed on the other end. But also staying connected and loving throughout the process.About This Author:A graduate of Stanford University and Harvard medical School, Dr. Hutcherson is presently a Clinical Professor of Obstetrics and Gynecology and Associate Dean of Diversity at Columbia University College of Physicians and Surgeons. Hilda lives in Westchester New York, with her husband and four children.Dr. Hutcherson's commitment to women's health is evidenced by her monthly women's health column in Redbook Magazine where she is also a contributing editor. She is a frequent contributor to Essence Magazine, where she had a monthly column for eight years. She is a frequent invited speaker on Women's Health and Sexuality, and has appeared on many national television programs, including Oprah, the Racheal Ray Show, the TODAY Show, Good Morning America, the CBS Early Show, 20/20, Dr. Oz and others. Dr Hutcherson is the author of three books, including the best-seller: "What Your Mother Never told You About Sex."
For many women, the second trimester brings about several welcome changes. Nausea tends to subside or disappear entirely and your breasts become less tender. You will probably have increased energy and appetite. Perhaps the most exciting thing is that most women begin to feel the baby move at about 18 to 22 weeks. These first sensations, referred to as quickening, often feel like little fluttery movements or gas. Quickening, combined with the visual sign of a growing belly, may help make the pregnancy seem more real.
As the baby grows, so will your belly. At 12 weeks, your uterus is at the level of your pubic bone. Around 20 weeks, the top of your uterus (the fundus) may reach your navel and by the end of the second trimester, it reaches even higher, so it is right under your ribs. Women have tremendously varied responses to the changing shapes of our bodies.
Women often feel ambivalent as a result of the value our culture places on being thin. Many women try to live up to this cultural ideal, even while pregnant, with negative consequences. Unfortunately, images of big, powerful birthing mothers are largely absent from our culture. Recently, popular media have celebrated pregnancy as sexy, but only for celebrities with otherwise "perfect" bodies. Imagine if we were surrounded by images that embraced our roundness instead. Try not to allow narrow cultural lenses to rob you of the right to feel happy and proud of your pregnant body.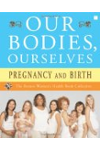 More About this Book
Our Bodies, Ourselves: Pregnancy and Birth
ALL THE INFORMATION YOU NEED TO MAKE WISE DECISIONS ABOUT YOUR PREGNANCY AND THE BIRTH OF YOUR CHILD -- FROM THE EDITORS OF THE CLASSIC "BIBLE OF WOMEN'S HEALTH" Pregnancy and birth are as ordinary...
Continue Learning about 2nd Trimester Of Pregnancy