The first trimester of pregnancy is a time of drastic hormonal changes. Although your developing baby is tiny, big things are happening to you. Fatigue, nausea, constipation, and breast tenderness are common. Feeling lightheaded is another common complaint of early pregnancy. In addition, all of the hormonal changes cause mood swings.

During the first trimester, you should begin to visit your doctor regularly for prenatal care.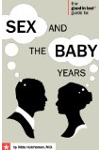 More About this Book
The Good in Bed Guide to Sex and the Baby Years
Available at a substantial discount for a limited time only, thanks to support from K-Y(R) Brand!Once you get down to the business of baby-making, the advice will pour in: books, magazines, in-laws,...
Continue Learning about 1st Trimester Of Pregnancy