For many women, sexual desire decreases during the first trimester of pregnancy due to fatigue, breast tenderness and nausea. Other women find the freedom of not having to worry about birth control or conceiving makes sex more enjoyable. By the second trimester, many women feel less nausea and experience heightened sexual desire.
Some of us enjoy our new curves and changing bodies without feeling hindered by them. Others may feel clumsy, awkward or less sexually attractive. Your partner and others close to you can play a key role in helping you feel good about the changing contours of your body, but they may need to be told how much their acceptance and explicit comments make a positive difference.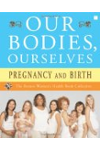 More About this Book
Our Bodies, Ourselves: Pregnancy and Birth
ALL THE INFORMATION YOU NEED TO MAKE WISE DECISIONS ABOUT YOUR PREGNANCY AND THE BIRTH OF YOUR CHILD -- FROM THE EDITORS OF THE CLASSIC "BIBLE OF WOMEN'S HEALTH" Pregnancy and birth are as ordinary...
Many changes occur in the abdominal muscles during a woman's pregnancy. Watch the video to learn more from Dr. Oz about the changes in a woman's body during pregnancy.
During the early weeks of your pregnancy, you may not see many changes to your body, but you can certainly feel them. You may be tired much of the time now. During the day, even brief rest periods will help. At night, you will be ready for bed much earlier than usual. As you enter your second trimester, this constant fatigue should pass. In fact, most women report new bursts of energy starting at about 14 or 15 weeks.
In addition to mood swings and fatigue, hormonal changes can also cause breast tenderness, more frequent urination and changes in appetite or food preferences. You may experience a slight increase in vaginal discharge but should not have any itching or irritation.
During the first trimester of pregnancy, you will experience many changes, including increased fatigue. Here's a list of other changes you might expect:
Breast sensitivity
Swelling
Tiredness
Emotional changes, like mood swings, sadness or weepiness, thanks to changing hormone levels
Increased/frequent urination
A dislike of certain foods and food smells
Upset stomach/nausea/vomiting
Vaginal discharge/spotting
Abdominal cramping and pain in the lower back or buttocks
High temperature
Thickening waist
Throughout your pregnancy, you should gain anywhere from 25 to 35 pounds, but much of this weight is gained in the second and third trimester. Fluid retention may play a part in early weight gain.
Continue Learning about 1st Trimester Of Pregnancy