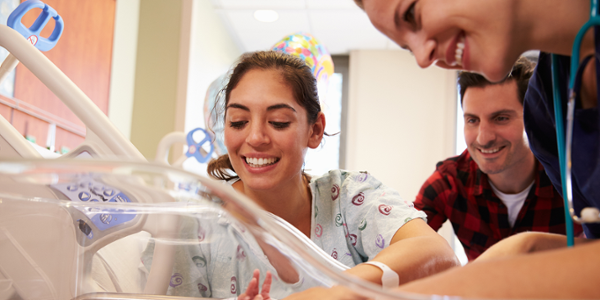 As your due date draws near, you're probably read and heard about the birthing experience. You may even have written your own plan to share with the hospital. Chances are, though, that plan doesn't extend past the birth. Here's what to expect from your hospital stay after the last push.
The First Hour
Unless you specify otherwise, your baby is cleaned and evaluated immediately after delivery. If you want to hold your baby straight from the womb, be sure to ask. Another option to have your partner watch baby's clean up and exam while you deliver the placenta and get stitched up (if you had an episiotomy or tear or Cesarean section) and then take time for snuggling.
There's plenty of time for bonding, as most babies are alert for about an hour after birth. That time is ideal for skin-to-skin contact and bright-eyed photos to send to friends and family.
Recovery
After delivery, there's often rush to clean up and move equipment. You might be transferred to a postpartum room or stay in a family-centered room with your baby and partner. Rooming-in provides a nice opportunity to bond with your baby, but it's OK to ask a nurse for help for a few hours so you can shower or sleep.
Back on your feet
Post-delivery fainting (due to blood loss) is common, so if you do decide to shower after you deliver, know that it might not be alone. You can use a shower bench and your nurse will likely watch over you. For the same reason, you may not be allowed to walk to the nursery or carry your baby in your arms while you are in the hospital.
Dinner time
A nurse or a lactation consultant will also be in to help get your started with feeding. Breastfeeding before your milk comes in helps you get comfortable with the basics and stimulates milk production and uterine contractions, which reduces bleeding.
While baby's diet is pretty basic, you can celebrate your hard work with a meal from the hospital or food brought in. Though it's tempting to want to toast your new bundle of joy, some hospitals don't allow alcohol and many forbid it for moms taking pain meds or breastfeeding.
Visitors
Your family and friends want to see the new baby, but do you want to see them? Would you prefer quiet time to bond and rest? Decide ahead of time so the nursing staff doesn't have to be your bouncer at the door. Some parents adopt a "no visitors" policy while breastfeeding and others are picky about who holds the new baby during this time. During flu season, the hospital may restrict who can visit too.
Heading home
Many insurance plans cover a two-day hospital stay for a vaginal delivery and four days for a C-section. Leaving early is an option that depends on your comfort taking care of your baby, your own recovery, and baby's health. No matter how long you stay there's a few things that need to happene before you can check out:
Baby Exam
A pediatrician will examine your baby and administer a heel-stick blood test, which screens for several metabolic disorders, such as phenylketonuria. Some states perform a hearing screening as well. They will ask for your pediatrician's name and may even set up the first appointment for the day after you head for home.
Your Exam
The nursing staff or your doctor will make sure that you're healing properly and your bleeding is slowing. They will advise you on home care and when to schedule a follow up office visit.
Skills Check
The staff will also determine that your baby is able to feed successfully and that you can perform basic baby care tasks such as diapering, bathing, caring for the cord stump, etc.
Forms Signed
You'll need to fill out a birth certificate, even if you haven't named your baby yet, and will be given a care sheet for you and baby. You may also be given samples of formula or diapers with cards to register for coupons and online buying.
Car Seat Check
You'll need to show a properly installed car seat and approved carrier before you can take your baby home. Your nurse can help you adjust the straps for an infant.
Planning ahead allows you to have the birth experience and recovery you've dreamed of. Ask specific questions about hospital policies and what you can expect from your stay when you tour the hospital