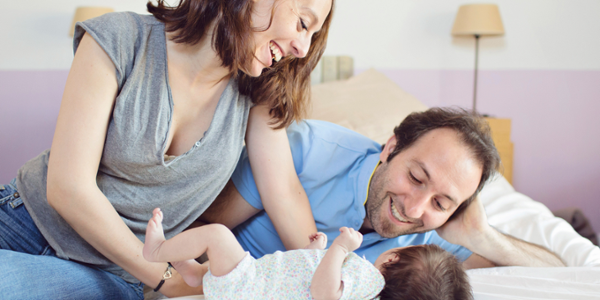 After bringing home your new baby, things are going to be different. Whether this is baby number one or baby number four, there are three things you can do now to make life a lot easier later.
Choose the Right Car Seat
Car seats are a long-term investment because their lifespan depends on how fast your child grows. In some cases, car seats might be used up to 12 years of age. The decision to invest in a car seat that grows with your child is probably the best decision you can make to protect your baby. Hospitals won't even let you go home without one properly installed in your vehicle! You'll first have to decide which car seat you want to buy.
All newborns need rear-facing car seats until they are at least a year old, weigh 20 pounds or more AND have reached the highest allowed height for their rear-facing seat. But the National Highway Traffic Safety Administration (NHTSA) and The American Academy of Pediatrics (AAP) recommend that kids stay rear-facing until age two.
Parents have a choice of buying Infant-Only seats that can only be used rear-facing or Convertible Seats that can be turned forward-facing for older children.
There is a lot of variation in the weight limits for both types of seats so pay attention when you are making your decision or you may end up needing to buy additional seats later. For instance, if your Infant Seat is only rated to 20 pounds and your 6-month-old future basketball star reaches 21 pounds, you'll need to buy a second rear-facing seat rated for a higher weight.
Injury prevention specialist, XXXXX, further recommends purchasing seats that provide added head support (or separate accessories) that keep the heads of tinier babies in place.
What if you have a used car seat from an older child or relative? It is generally safe to reuse a car seat if it:
Is less than 6 years old (older models may not have up-to-date safety features)
Has instructions and can be installed properly in your car
Is the right type for your child's age, weight and height
Has a known safety and recall history
Has never been in an car accident
Is not currently under recall (you can check at www.nhtsa.gov)
Is within the expiration date as specified on the car seat
Also, keep in mind that most hospitals require you to bring your car seat in to be checked and properly installed upon discharge. Practicing before the baby is born helps get the procedure down so you have one less thing to worry about.
For tips on selecting and installing a car seat, visit
SaferCar.gov
.
Meal Prepping
After bringing your baby home, the last thing you will have time and energy for is cooking. Even if loved ones drop off meals or offer to cook, keeping a semi-normal meal schedule will be difficult to balance between your infant's feeding schedule.
Any planning ahead will help! If you can, cook and freeze meals, or stock your pantry/freezer with quick meals that you or your significant other can prepare in a moment's notice.
For new moms who are planning to breast-feed, diet is critical. Nutritionists at StoneSprings Hospital Center recommend eating a balanced, healthy diet rich in iron, protein, calcium and vitamins C, D and B12. Plus, drinking plenty of water. Here are some great foods to include:
Whole grain products (iron, protein, calcium and vitamins)
Lentils (iron and protein)
Dark, leafy green vegetables (iron and calcium)
Dairy products including milk, yogurt and cheese (protein and calcium)
Peas and dried fruit (iron)
Eggs, nuts and seeds (protein)
Fruit, especially blueberries and oranges (vitamins)
Lean beef (protein, vitamin B12)
Feeding Your Baby
You'll want to make sure you have all the tools you need to make feeding comfortable. A cushiony chair, support pillows and even foot stools make the endless hours you spend a lot more enjoyable.
If you plan to breastfeed, you may want to invest in a good breast pump as well as nursing bras, pads and creams. For lower-priced items, consider buying a few different types to have on hand at the start. That way if something isn't working for you, you won't have to run out and shop for something else. Clothing that allows easier access can also help, like button-up shirts.
If you plan to bottle-feed, have different styles of bottles on hand in case you have a picky eater. Dr. XXXXX, a local pediatrician in the StoneSprings area, recommends talking to both your pediatrician and the hospital's nursery team to learn what types of formula to have on hand when you come home.