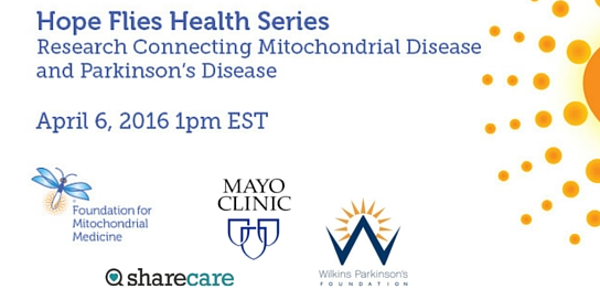 On April 6th, the Foundation for Mitochondrial Medicine (FMM) hosted its second Hope Flies Health Series Webinar: Research Connecting Parkinson's Disease and Mitochondrial Disease. The Foundation developed the webinar with partners including the Michael J. Fox Foundation (MJFF), Wilkins Parkinson's Foundation and Sharecare to bring greater awareness to mitochondrial disease and its connection to Parkinson's disease.
Did You Miss the Webinar?
View the recorded session
About the Webinar Panelists
Wolfdieter Springer, PhD, Assistant Professor of Neuroscience, Mayo Clinic
The research interests of Wolfdieter Springer, Ph.D., revolve around cell biology in aging and age-dependent disorders. His primary research focus is on the molecular and cellular mechanisms underlying the pathogenesis of Parkinson's disease and other related neurodegenerative disorders.
Dr. Springer's lab takes a combinatorial approach using biochemistry, cell biology and advanced imaging techniques, such as multicolor live cell and high-content microscopy. His lab aims to identify novel genetic and chemical modifiers in cell-based assays, as well as in vivo using C. elegans as a screening tool.Functional insights gained through Dr. Springer's research will provide the basis to address unmet medical needs, such as identifying faithful biomarkers and developing novel therapeutic strategies that halt or prevent devastating neurodegenerative diseases.
Laura Stanley, Executive Director, Foundation for Mitochondrial Medicine
Laura joined the Foundation for Mitochondrial Medicine in January 2010 as FMM's first Executive Director. Laura's professional experience is in corporate human resources, sales and marketing, yet when her eldest son was diagnosed in 2009 with a mitochondrial disease, she was eager for a way to accelerate action. She has transferred her corporate business skills to non-profit leadership. Formerly, Laura served in senior human resources leadership roles at EarthLink and an Atlanta based technology start-up, EzGov, Inc. Her early career experience evolved in executive search with Korn/Ferry International and sales and marketing in the paper and packaging industries both in Paris, France and the southeastern U.S. FMM website: www.hopeflies.org
Bill Wilkins, Co-Founder, Wilkins Parkinson's Foundation
Diagnosed with Parkinson's in 2006, Bill Wilkins, Co-Founder of the Wilkins Parkinson's Foundation knows firsthand about the disease and has worked tirelessly for treatment every since his diagnosis. In addition to his fundraising and advocacy efforts through the Wilkins Parkinson's Foundation, he is also a charter member of Emory University's Udall Parkinson's Disease Research Center's Community Outreach Board and serves on the Patient Advisory Council for the Michael J. Fox Foundation. The Wilkins Parkinson's Foundation (WPF) is a 501(c)(3) charity dedicated to funding programs to raise awareness of Parkinson's disease (PD). It is the Foundation's belief that increased awareness creates a general groundswell of support for the entire PD community, from research to patient care to education and support groups. The Foundation works to build awareness through local, regional and national marketing efforts. To find out more, please visit www.wilkins-pf.org.
Moderator: Dr. Darria Long Gillespie, MD MBA FACEP, SVP Clinical Strategy Sharecare
Darria Long Gillespie, MD MBA, FACEP, is Sharecare's Senior Vice President of Clinical Strategy, an Emergency Department physician at Emory University, and national spokesperson for the American College of Emergency Physicians. Dr. Long Gillespie is a frequent health expert on national TV and has appeared on CNN, CNBC, FoxNews Network, and The Dr. Oz show. … MoreOn Sharecare, she contributes and authors articles on health topics and health news, writes "The Busy Woman's Guide to Health…and Sanity", and also hosts Sharecare Radio, an international radio show on iHeart Radio's RadioMD. Sharecare website is www.sharecare.com
About the Foundation for Mitochondrial Medicine
The Foundation for Mitochondrial Medicine is a 501(c) (3) non-profit organization dedicated to supporting the development of the most promising research and treatments of the many forms of mitochondrial disease. Visit www.mitochondrialdiseases.org for more information.