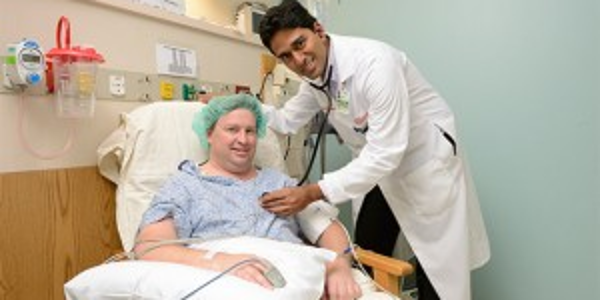 Widely recognized by the public as heart catheterization, coronary angiography began in the 1940s using a cut-down approach to the brachial (upper arm) artery. Cut-down refers to a small surgical incision which enables the doctor to gain access to the brachial artery. Then, approximately 20 years later the femoral (groin) artery approach was perfected. In 1986 testing began on using the radial (wrist) artery approach and quickly became the preferred choice for diagnostic coronary catheterization in Japan. The first radial coronary intervention – ballooning an artery open and/or stent placement – was performed in Amsterdam in 1993.
You might be surprised to know that Citrus Memorial Hospital has also been performing radial heart catheterizations for over five years. In fact, the majority of the coronary procedures performed at CMH now use the radial access approach. The evidence is overwhelming that this type of procedure has fewer complications and better satisfaction for patients.
That satisfaction can probably be attributed to the fact that patients who have the radial access approach to heart catheterization can sit up immediately after the procedure and are able to walk to the restroom instead of using a bed pan. This is in stark contrast to the femoral approach which requires patients to lay flat on their backs for a period of 2 to 6 hours afterward.
Radial heart catheterizations are on the rise here in the United States. From 2007-2012 radial access grew 13 fold and is expected to continue to increase yearly. By 2013 over 20% of stents placed in the coronary arteries were by radial access. Predictions for the US show that number may jump to 50% in the next few years. A couple of factors driving this change include patient satisfaction and decreased risk of complications.
Citrus Memorial Hospital is Citrus County's leading hospital in radial heart catheterization and intervention where over 10,000 heart catheterizations have been performed since 2004. Many patients express their satisfaction with radial catheterization and are pleased to be able to sit in a chair, eat a meal, and use the restroom so quickly after a procedure.
While not every patient will qualify to have their heart catheterization done through the radial artery, if heart catheterization is suggested to you by your physician, be sure to ask about the radial approach.
Tammy Schroeder, RN is a nurse in the cardiac catheterization lab at the Citrus Memorial Heart and Vascular Center. For more information about cardiac catheterization visit citrusmh.com or call the Heart and Vascular Center at (352) 344-6416.